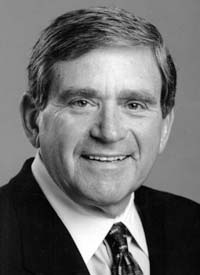 With the Ron Howard film "Frost/Nixon" opening nationwide, BU journalism professor Bob Zelnick reflects on his role as a producer hired by British talk-show host David Frost for those historic interviews with the disgraced former president.
"Before each one of them, I would marshal all the material we had, digest it, and try and anticipate the way Nixon would respond. After briefing David, I would sit in the chair and pretend to be Nixon, and he would ask me exactly the questions we had in mind for the next day.
"Nixon was a tough adversary. The interviews show how tough a core Nixon had, and how strategic his every move was. Nixon thought one step, two steps, three steps ahead. He had an objective firmly in mind. He was his own best lawyer."
Zelnick, a former long-time ABC News correspondent, is played in the movie by actor Oliver Platt.