The late 19th and early 20th century gave birth to some of our world's favorite poets and poetry, something that could be written off as simple proximity, but we at Core believe what makes these writers so important was not only the still resonating effects of political and societal changes they commented on but also because of the interconnectivity of the poets of that time, a connectivity that breached the rest of the 20th century and still has not come to an end.
This interconnectivity provides something more than a continuation of these men into our personal experiences: this comradery allowed for the creation of a poetic conversation from poet to poet as they commemorated each other's lives. This commemoration provides the topic for Nina Martyris' essay "Mourning Tongues: How Auden Was Modified in the Guts of the Living".
This essay, which takes as its roots one poem by W.H. Auden – "In Memory of W. B. Yeats" -, traces the influences and friendships of six poets who commemorated each other in death and knew each other in life. The piece covers four poems in total by four different authors about four different deaths, yet each poem takes its influence from Auden's eulogy of Yeats. Martyris, in the essay, traces the path that lead one poem to the other, guiding us through the friendships and connections that lead from Yeats' death to Heaney's. The journey takes us on a boat crossing the Atlantic and also deep into the Soviet Union where a young man languishes in exile. It is a surprisingly touching collection of connections that explains the passion behind these poems.
For Brodsky, the death of Auden was a real blow. Auden had been instrumental in helping him get to America after he was expelled by the Soviet Union, and had shown him many acts of kindness. The two men knew each other for less than a year but had become friends. So, on the 10th anniversary of Auden's death, Brodsky requested — bamboozled, actually — his friend Derek Walcott to write up something for a memorial service that he organized at the Cathedral of St. John the Divine in New York City. Acutely aware of how much Auden had meant to Brodsky as friend and literary hero, Walcott knew that to be chosen by him "to do justice to Auden's memory was a tremendous burden," as he told William Baer. "And a tremendous honor."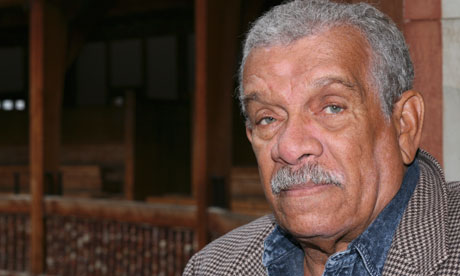 Martyris takes only a partial interest in the camaraderie and sincerity of the poems though. She traces the stylistic elements that were transferred from man to man as well. In fact, only one of the four poems came from a place of attachment between the writer and the subject; the other three were written as tribute more than grief. As Martyris put it:
This was the third avatar of Auden's poem and by far the most personal: after all, Auden barely knew Yeats, Brodsky had never met Eliot, and Walcott had only barely met Auden. But Heaney and Brodsky were mates. They had first met in London in 1972…, visited each other's homes in New York and Dublin, and traveled together to Finland; Heaney had translated Brodsky into English, and their friendship had, in his words, "fortified poetry."

Regardless, the poetry is beautiful, and the story of these connections only serves to strengthen that beauty, even for those of us who do not delight in tracing the progress of influence from writer to writer.
Here is the progression of poems (except for Brodsky's "Eulogy for T.S. Eliot" which could not be found on the internet. Let us know below if you can find it.):
W. H. Auden's "In Memory of W. B. Yeats"
Derek Walcott's "Eulogy to W. H. Auden"