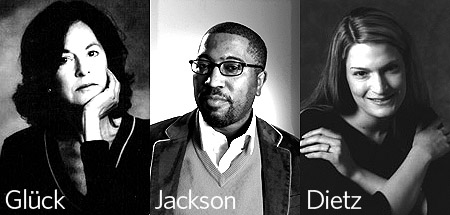 This summer, Boston University hosts the seventh annual Summer Poetry Institute for Educators led by Robert Pinsky. This program builds on the principles of the Favorite Poem Project which Pinsky founded during his tenure as Poet Laureate.
On Tuesday July 14th, Louise Glück — former Poet Laureate, and winner of the Wallace Stevens Award, among other honors — will give a reading. The public is invited to attend, from 3:45 PM to 4:30 in Room 102 of Boston University's Sargent College, 635 Commonwealth Avenue.
On Wednesday July 15th, same time and place, the featured readers will be poets Maggie Dietz and Major Jackson.