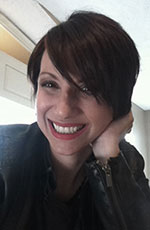 Abriana Jetté (Poetry 2012) has posted a second installment of "Emerging Poets" on StayThirsty.com, featuring three BU MFA alumni: Megan Fernandes (Poetry 2012), Lisa Hiton (Poetry 2011), and Rebekah Stout (Poetry 2010). The article also features Jonathan Escoffery, who teaches Creative Writing at the University of Minnesota.
To read Abriana's essay, visit http://www.staythirstymedia.com/201310-082/html/201310-jette-intellect-image.html
Abriana Jetté is a poet, essayist, and educator from Brooklyn, New York. She traveled to Sardinia as a Robert Pinsky Global Fellow while earning her MFA at Boston University. She also has an M.A. in Creative Writing and English Literature from Hofstra University, where she graduated with Distinction. Her work has appeared in the American Literary Review, Word Riot, The Boiler, Every Day Poets, and many other places. She teaches Creative Writing at St. John's University, and various English related courses for the City University of New York.
The poetry of Megan Fernandes, who will be teaching a feminist theory and technology course at Brown University this fall, can be found in Guernica, Memorious, RATTLE, Redivider, and many other journals. For more information on Fernandes, visit: megfernandes.wordpress.com/.
Lisa Hiton has poetry forthcoming or published in Hayden's Ferry Review, Linebreak, DMQ Review, The Cortland Review, and many other places. For more information on Hiton visit: lisahiton.com/poetry-features.html.
Rebekah Stout has been the program director for the Favorite Poem Project. Her poems are featured or forthcoming in Salmagundi, Slate, and Poetry International. To hear Stout read "This Horse" visit: slate.com/articles/arts/poem/2013/06/_this_horse_by_rebekah_stout.html.