Two weeks ago, I woke up early on a Sunday morning to register for my Spring 2018 classes. I've already altered my schedule since then. With my track record, this will probably happen twice more before the semester begins. 
I've consistently overbooked myself this past semester, and it's something I've spent a lot of time regretting. This semester has taught me the importance of crafting a schedule that is catered towards your individual needs. It's important to remember that your schedule is so much more than the few hours you spend in class per week. It may sound like a good idea to fill every hour of the day with jobs, internships, classes, and extracurriculars, but you may find yourself crashing by mid-March (if you last that long). 
It's tough to plan an ideal schedule on your first attempt, but you might come close with careful planning. Here's some important things to keep in mind as you craft (or modify!) your schedule for next semester: 
Extracurriculars
Classes are important, but they also only make up a fraction of your week. I mention extracurriculars first because mine are the most demanding part of my schedule. I have rehearsals for my student group, On Broadway, most nights of the week. I always keep this in mind when making my schedule.
One of the most important things to remember is scheduling BREAK TIME. That 3-6 PM class might look great in your schedule, but it won't feel great when there's no time to stop for dinner before whatever meeting you have to run to! 
Study time
This is an undergraduate institution! There's no point in taking 16 credits worth of classes if you're not saving any time to apply yourself! You don't need to reserve ten hours of study time per day, but make sure there's enough space in between your classes to manage your workload. The best schedule is one that will allow you to do a little bit of studying everyday. 
It's also important to know yourself and consider when you're the most productive. For example, two years of college have taught me that I am NOT a night owl. I tend to register for late afternoon classes so I can wake up, grab my Venti iced coffee at Starbucks, and spend my mornings getting homework done in the COM Lounge.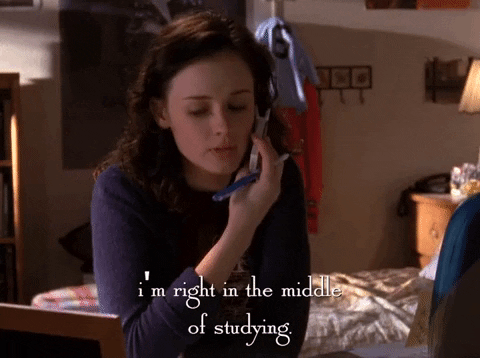 Save time for friends and family 
There was a time last semester when I went two weeks without speaking to my parents. I don't think I will ever live that down. If you're too busy to spend time catching up with the people you love, you're doing something wrong! 
This one is easy, because you don't necessarily need to dedicate two hours per day to Facetiming your parents (although I certainly wish I could). However, it sometimes can be very helpful to block off a weekly time to give your loved ones a call. I usually spend Sunday evenings giving everyone in my family a quick call! 
Remember that life happens
Don't forget…. there's going to be so much that you can't plan for next semester! You'll be able to handle a busy schedule sometimes, but not always. There will undoubtedly be days when you just need some rest! Filling your Friday afternoon with classes and extracurriculars may seem efficient now, but what will you do when your friends ask you to hang out, or the new season of (insert popular television show here) premieres on Netflix?
As a general rule, just keep your schedule open! You never know when a new job or internship opportunity will arise, or if you'd like to branch out and try a new extracurricular! Keep all of this in mind when you register for classes, and you're sure to have yourself a successful spring semester!