Living in a fast-paced city like Boston, there are countless places to go and multiple ways to get there. Coming from Los Angeles, a city plagued with 24/7 freeway traffic and a poor public transportation system, the last thing I knew was how to get on a subway. Boston's subway system, the MBTA Commuter Rail (we say "the T"), runs straight through BU's campus. This looks very convenient, but being train illiterate, it was one of the most intimidating aspects about BU for me during my first month at school.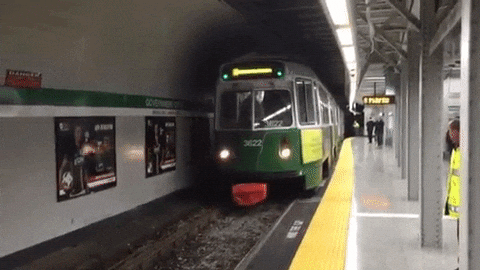 Uber is efficient and requires no effort, but your bank account will be going into an extreme decline if you fail to learn the cheaper ways of getting around Boston. Here are the main things you need to know:
The Boston University Bus
The bus is convenient if you know when it's arriving. Get the BU app, and you can see the buses' active locations and an estimated arrival time for each stop. The bus goes from Stuvi 2 (in West Campus) all the way through Kenmore Square. And the best part is: it's free!
What it is: The T is broken down into 4 subway lines: Red, Orange, Blue, and Green. The Green line is the largest and is broken down into the A- E train. The Green line, is what runs through BU and is called the B train (for Boston College).
Pro-Tip

: When the train says it is going toward BC, that is toward West Campus, and if you want to go toward Kenmore Square, the destination will say Lechmere
Where it goes: All around Boston! You can get to most parts of Boston on the T, BUT it does require you to switch trains, for example, going to Cambridge. That is intermediate level navigating (which I am still working on), but I've done it and it's a great, cheap way to explore Boston. My favorite place to go is Newbury St (Hynes Convention Center Stop) because it's about two stops away from BU!
How to get on it: Buy a Charlie Card, which you can get at Star Market on-campus or at any train station– Kenmore Square is closest. Each trip you take costs $2.25, and you can easily reload the card at any station or buy a one-time ticket.
When do you know it's coming: You could walk outside and look, but save yourself from frost bite. I suggest getting an app like ProximiT which gives you a live ETA for each train and which stop it will be at.
The T also offers a bus system and a train system, but I'm only a sophomore…. I haven't mastered that yet. Once you buy a Charlie Card and study the train map, you're ready to venture into Boston—take advantage!